One of Britain's biggest tabloids has issued a subtle Christmas cracker by altering its masthead – leaving social media users confused, in awe and groaning at the joke.
The Daily Mirror surprised readers – and even stumped Radio 4 presenters on the channel's Today programme – by changing its title to exclude the 'L'.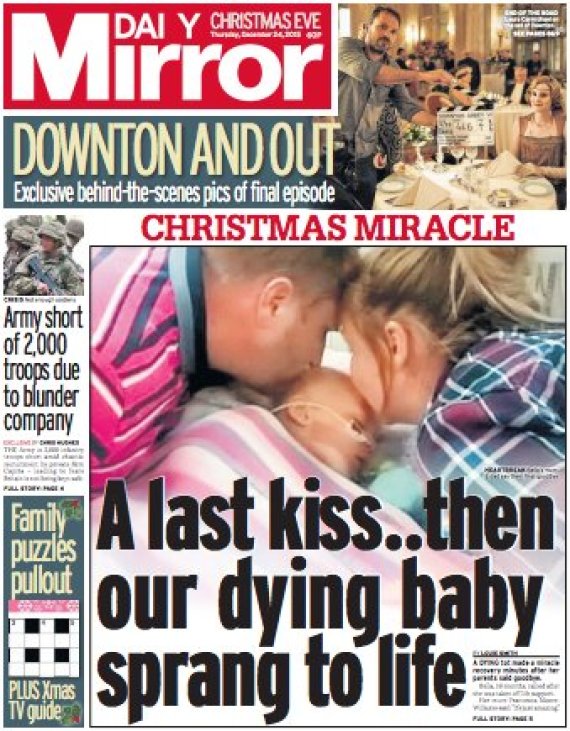 Thursday's Daily Mirror
The joke, for those who are stumped by editors' latest witticism, is that there is no 'L' – or 'noel' – in today's copy of the paper.
It took some people a while to cotton on, with BBC journalists presenting the corporation's flagship current affairs show floundering as they grappled to explain it.
Most social media users, though, were overjoyed at the pun.
@DailyMirror Congrats to whoever came up with Dai-y Mirror Masthead. Happy No L to all of you at this great newspaper.

— pauline wallin (@paulinewallin1) December 24, 2015
The Daily Mirror missed out the L on their banner today – No L!
Genius!

— Stunty365™ (@Stunty365) December 24, 2015
Loving the Christmas version of the Daily Mirror masthead today with no 'L'. Noel. Geddit? pic.twitter.com/gv5dUoxWDn

— Gary Burgess (@GaryBurgessITV) December 24, 2015
Daily Mirror masthead missing the "L"
No L
On Xmas Eve
@simonjacktoday spotted it.
Brilliant

— Louise Cooper (@Louiseaileen70) December 24, 2015
Today's dai y mirror. No "L". Brilliant! @DailyMirror

— Kate Hilpern (@KateHilpern) December 24, 2015
Others just thought the joke was a lump of coal.
Oh dear. daily mirror. "No L". So bad.

— Omarscen (@Omarscen) December 24, 2015
Apparently – and this is news – there is 'No L' in todays Daiy Mirror…

— Good King Wencesbats (@Battsby) December 24, 2015
There is no 'L' on the daily Mirror.. Get it.. No 'L'… No El.. Noel.. I'll let myself out pic.twitter.com/PvI168Ji3V

— isildur (@jendyer_) December 24, 2015
Editors followed it up with their own, slightly painful, version of 'The First Noel', featuring staff singing the much-loved Christmas carol clad in festive costumes.
Zoe Harris, Trinity Mirror's marketing chief, said the missing 'L' move was a "creative way" to say Merry Christmas by using the "surprisingly vocally talented editorial team".
"The activity also reinforces the Mirror's intelligent approach whilst showing the disruptive power of our media," she added.
READ MORE: